Current Vacancies
We are currently recruiting for the following roles:
Sustainable Building Services Engineer 
Passive House Designer/Consultant
About LEDA
LEDA was formed in 1997 as a multidisciplinary partnership of design engineers and architects committed to creating sustainable, environmentally friendly buildings.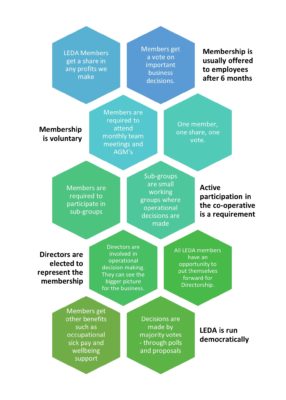 As a registered co-operative company, our entire approach is focused on openness, collaboration and integrated working – stretching across our team to all those we work with. 
We registered as a worker's co-operative in 2000, which has meant a long-term ethos of collaborative working, transparency and employee ownership. LEDA's co-operative members are our workers, shareholders and decision makers. We all have an equal say in how our business is run. We can all see our impact on the business and aspire to make a positive contribution.
LEDA and Sustainability
We are very aware that the construction industry plays a huge part in carbon emissions, waste, energy usage etc., and it is a constant goal to minimise our environmental impact, not just through our engineering and architecture designs, but through our business operations.
As one of our main business objectives is to be leaders in Sustainable Building Services, it stands to reason that, as a co-operative, sustainability is a key consideration in our day-to-day work and the way we run the business. Our Investors in the Environment (iiE) accreditation shows that we are fully committed throughout the co-operative to sustainability and the environment. This commitment has been further recognised by iiE with our 'Sustainable Transport Champion' award in 2020. We actively encourage our members to use sustainable transport and have an office e-bike for their use. 
LEDA and Community
We regularly undertake work for community groups and organisations such as our project for Chapel FM in Seacroft, Leeds, and The Proud Trust in Manchester. Our offices are in a church building, and we support the church by providing their water through our meter, regularly donating to their food bank, and providing waste disposal facilities. We make regular donations to local charities which are approved by the cooperative, so everyone has a say in which charitable causes we support.
"An incredible place to work"
We go above and beyond what might be expected for an organisation of our size and resources – particularly in terms of investing in training and continued personal development. In 2021 we won the 'People Development' Award at the 2021 Yorkshire & Humberside Constructing Excellence awards. The judges commented "It's clear LEDA is an incredible place to work!". We achieve this through:
Democratic decision making and profit sharing
Supporting hybrid working as the return to 'normal' working patterns
Provision of a flexible working policy
Support and encouragement of a healthy work/life balance
Support of part time working at all levels of seniority
Supporting and encouraging workers with career progression
Promotion of wellbeing – support through remote working, regular contact, lunchtime yoga, time away from desk, outdoor office trips, walking & cycling outings, gardening in the office allotment, and regular social events.
If you'd like to find out more or would be interested in working for LEDA, we'd love to hear from you! Visit our contact page or email office@leda.coop